Alpra design I contact I references I design I calendars I photography I education I car media
CALENDAR ALPRA DESIGN 2011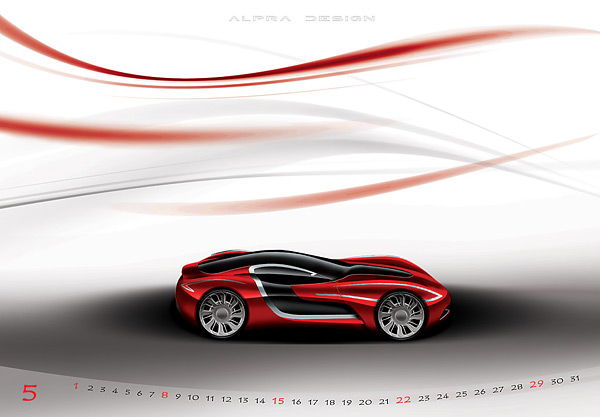 17 years of tradition
First Alpra calendar was published in 1994 by ČZP Voranc (publisher). Since than calendars Alpra became traditional. Their customers appreciate art, design and most of all - cars! Since their first year calendars Alpra maintained a unique theme -transportation design. During the years, they became calendars for collectors. Each and every year calendars show different design approach. Therefore their regular customers always look forward to be surprised by new editions.

Exclusiveness
Calendars Alpra are exclusive calendars. They combine aesthetics, art of drawing, technical knowledge and designers skills. Their size, print quality and most of all - an exotic theme - place them among rare calendars.

Calendar

• Ideas of future exotic coupes by Alpra design
• hand drawn and computer painted drawing
• Size: 49  x 34 cm (19,3" x 13,4")
• Front page + page with a describtion of the theme in four languages + 12 pages + Back page with data and space for buyers company logo (49 x 6 cm)
• quality 200 g paper
• calendars are numbered and signed
•
each c
alendar is enclosed in a cardboard box
Author: Aleksander Praper
Author of ideas, drawings and graphic design is Aleksander Praper. Mr. Praper is a mechanical engineer, designer and an automotive journalist. Combining technical, aesthetic  and practical knowledge, he has a good sense of what good car looks like and the way it works. All that knowledge can be sensed in his designs, which combine classic aesthetic and a great amount of love toward a genuine sports car. And his designs look like cars, not like  toys from the future!
Publisher – Alpra design
Since 2009 the publisher of Alpra calendars is company Alpra design.
PRICE
| | |
| --- | --- |
| Amount | Price for Kalender (without tax) |
| up to 50 pcs | 15,00 €/ pcs |
| 51 – 100 pcs | 14,60 €/ pcs |
| 101 – 250 pcs | 14,10 €/ pcs |
| 251 – 500 pcs | 13,50 €/ pcs |
| 501 – 750 pcs | 12,80 €/ pcs |
Payement: 8 days after delievery
Delievery is free for orders of more than 20 calendars


INFO and ORDER:
Alpra design, Aleksander Praper s.p.
Otiški vrh 53
2373 Šentjanž pri Dravogradu
+386 41 345 054
koledar@alpra.com
Vsebina spletne strani je avtorsko delo! V skladu z zakonom o avtorskih pravicah je last Praper Aleksandra. Vsaka nedovoljena uporaba vsebine, objavljene na tej strani, je kaznivo dejanje. O možnosti uporabe prispevkov se je potrebno dogovoriti z avtorjem!